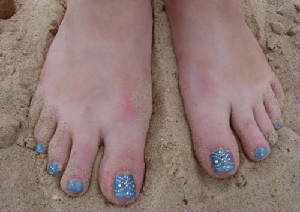 Turquoise Bling
L&P Overlay on nails. Turquoise mix made from blue, yellow and green mosaics and white metro, with a blend of glitter dusts.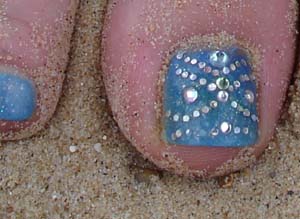 Bollywood Milkshake
L&P overlayed toes. Purple fading into milkshake pink. Th purple is normal purple Mosaic, the pink has been thinly overlayed on the purple, and stretched over the nail. The pink is a mix of red & purple mosaic, white, gold and silver metro, and a blend of glitter dusts.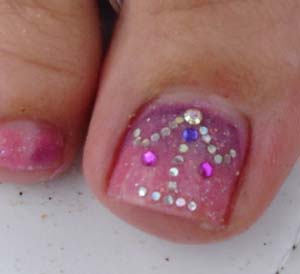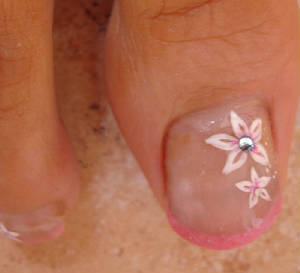 BubbleGum Smile
L&P overlayed on natural nail. The pink is mixed with various Mosaic and Metro powders by CND, and the pink on zones 2 & 3 is a mix if Flawless pink and Perfect Colour Pink. Flowers are handpainted with acrylic paints.
The brown staining at the bottom of the nail is fake tan!
Click here to go back to the main gallery page
Layla Holzer - Professional Creative Nail Design Master Technician